NEWAY regularly spreads the Gospel through Facebook advertisements to 8 Muslim Groups : Turkey, Syrian refugees residing in Turkey, Uzbekistan, Azerbaijan, Kazakhstan, Egypt, Saudi Arabia, and the United Arab Emirates.
We will take care of anyone we can meet in person, socialize and nurture. Other than that, the ministry proceeds through the connection with the ministers scattered in each region according to the city, country, and region. The ministry will proceed as follows.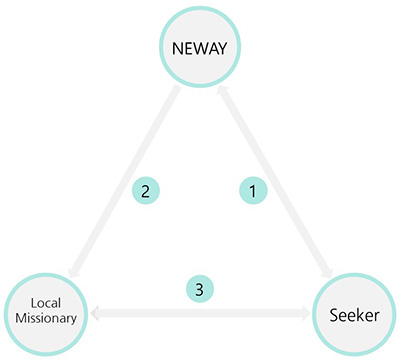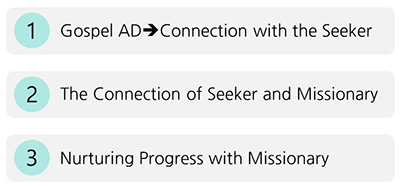 1. The Gospel advertisement is sent from NEWAY to each country through Facebook, and people who see the Gospel advertisement and respond to the Gospel send a message to Newway. New Way delivers a more in-depth gospel to each person who sent a message, and conducts basic online courses to those who respond positively to the gospel.
2. NEWAY connects those who have completed the basic online course with ministers active in their country or region.
3. Local ministers will have fellowship online/offline with those who have completed the basic course. And the local ministers will nurture the convert as a disciple of Christ.
As shown in the figure below, NEWAY transmits gospel advertisements to various countries through multinational IT companies such as Facebook and YouTube. In addition, the ministry will proceed through linkage and cooperation with the converts connected through the gospel advertisement and the missionaries working in each country.